Mangal Dosha is a combination of planets (as mentioned in image) i.e. when Mar is placed in 1st, 2nd 4th, 7th, 8th, or 12th house of the Lagan chart.
A person born in the presence of this condition is termed as a Manglik. There is a belief that the negative consequences for a Manglik marriage can be resolved if the manglik first performs a ceremony called a kumbh vivah, in which the manglik "marries" Banana or Peepal tree or a silver or gold idol of the Hindu God Vishnu.
The bad effects of Mangal Dosh can also be reduced with the help of astrological remedies which would generally include the application of Pooja, Mantras, Gemstones, Godan ,Charities and these remedies are different for different individuals depending upon their horoscopes. However, as per Hindu belief, these doshas can be cancelled due to combination and aspects of various planets.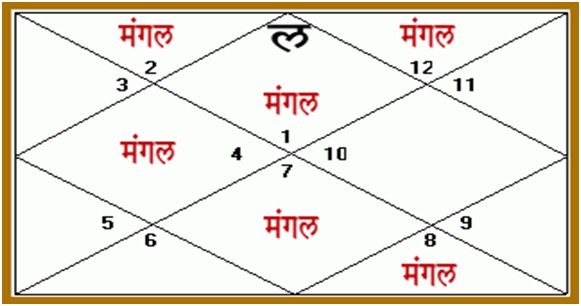 https://www.astrologicalcounsellor.com/wp-content/uploads/2017/04/logo1.png
0
0
rajendra1955
https://www.astrologicalcounsellor.com/wp-content/uploads/2017/04/logo1.png
rajendra1955
2017-05-01 10:02:20
2017-05-01 10:27:27
MANGLIK DOSHA