Astrology is a heavenly awareness and it can make a person strong and powerful who is surrounded by the obscurity around him.
ABOUT RAJENDRA KUMAR SHARMA, ASTROLOGER COUNSELLOR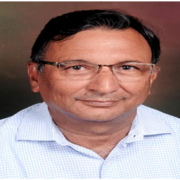 An Expert in Vedic Astrology with over 10 Years experience in prediction of horoscopes with regards to Profession, Business, Marriage and other problems in life. His prediction comprises of deep observation of houses, nature of planets, their position and strength in a horoscope. Timing of the fate of human beings based on the position and condition of the planets at birth. The astrology relies upon the skill and intuitive capacity the astrologer than the complicated rules. Remedies suggested by him are traditional and comprising of mantra, charity, pujas, offering prayers. Mantra and Prayers are very useful technique to solve the problems.
The natives generally face the following type of problems in various phases of the life. Few examples are:
 Marriage Matching/Delay in marriages.
 Disputes between husband and wives.
How the marriage can be saved.
Profession/Business of natives.
Type of profession/Business.
Facing problem in career, not getting a job after hard work.
Health Problems
Which remedies suits to natives?
Rajendra Sharma ji is a well qualified person who is B.A (Honours) in Economics and M.A in Public Administration. He is also member of Fellow of Insurance Institute of India. From the Childhood he has an interest in Astrology and counselling. After superannuation from Service, he chosen the Astrology field and has seen number of kundlis successfully.