What is Chandradosh?
Chandradosh or weak moon is a Kundali dosh in which a weak moon can create trouble in your life. It also affects your relationships and makes you weak mentally. The moon has a severe impact on one's life according to Vedic astrology. If it is the strong moon that it can reflect on your health, good relationships and can make you emotionally strong but if it is a weak moon then it is the reverse of that and can harm an individual's life. But do not worry as our astrologer Rajendra Kumar Ji has found the solution for Chandra Dosh as we will discuss later Chandra Dosh effects and remedies in this blog
Many people today would not believe in such things but when they faced the reality and took remedies, then they too believe in these things and the effect could be seen. In our Vedic Astrology Moon is considered to be the sign of immense purity and trueness and it also determines the strong personality in someone's life. If someone has a strong personality then the moon position is strong in his/her birth Nakshatra but a weak retrograded moon completely nullifies the personality of an individual and could create problems.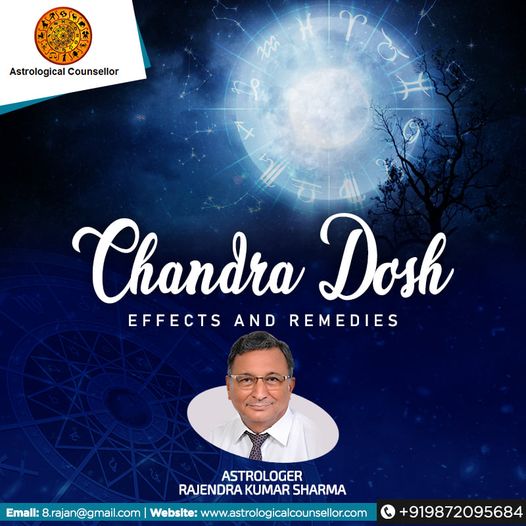 But you don't need to worry as our astrologer Rajendra Kumar Sharma has vast experience in astrology and he had already helped many people with such problems.
What are the general signs of Chandra Dosh?
Depression and mood swings could be experienced.
Lethargic body state and you could feel weak all-day
Mental stress
Body pain
Women could experience menstrual and fertility problems
Disorders like personality disorders etc
Disturbed social life
Mental fatigue and stress
Financial crisis
Estranged relationships
Suicidal attempts
Broken relations near and dear ones
Sexual wellness etc.
Difficulty in career success
Best Remedies for Chandra Dosh Removal by Astrology
There are various ways by which the effect of Chandra Dosh can be nullified and you can live your life peacefully. It will bring peace, charm, the intensity to your life and Rajendra Ji mentions some of the remedies which you can use and will see the effects of it.
On Monday, you should donate some rice, grains, white clothes, white crockery, milk, kheer, curd or can do donations to the poor. If the donation is done from your will then it is beneficial as with affection and good deeds it is your ability of how much daan you can give to help the poor. You can also donate silver or pearls because white is the ruling color of the moon and you can wear white clothes or donate white clothes so that the effect of a weak moon can reduce.
You can keep fast for 9 consecutive Mondays to reduce the effect of the moon in your life. It can appease your deity and also you can worship Goddess Parvati but remember to do it on Monday for greater effect.
You should wear a pearl gemstone on your little finger of the right hand to reduce Chandra Dosh. You should wear it with the proper weight of the gemstone. You can also clean it with curd, ghee, milk to purify the gemstone
You should chant Lord Chandra Mantra to impress the deity. You have to chant Chandra Fraha Mantra or Chandra beej mantra. If you chant it 108 times in one go then it is beneficial. You can also wear 2-Mukhi rudraksha for even better results.
You have to give more importance and respect to females in general as it can help a lot.
On a full moon day, you should sit in the light of Lord Chandra and enchant Chandra Mantra for greater effects.
You can also do a Chandra dosh Nivaran pooja at our home.
                                    Chandra Graha Mantra
|Dadhi shankha tusharabham kshirodarnava sambhavam |
||Namami shashinam somam shambhor mukutbhushanam ||
By chanting this mantra 108 times, you will see in some days, the effect. By following all the steps above, you can live your life peacefully.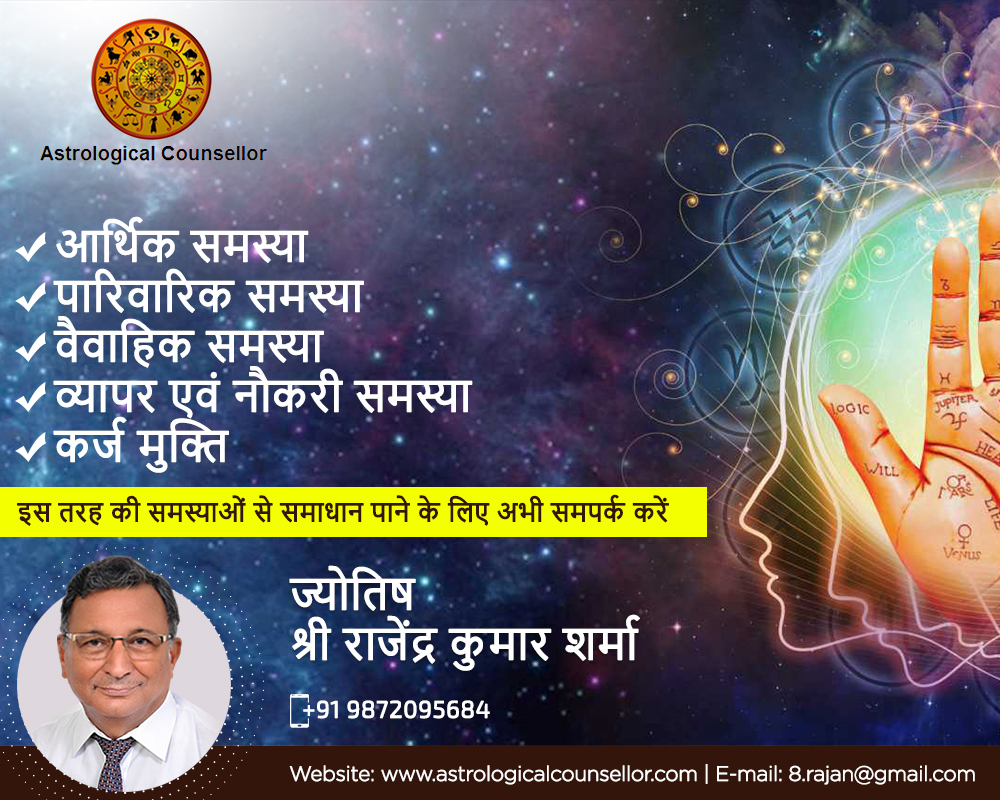 Why Should you contact the Best Astrologer Rajendra Ji for Chandra Dosh Astrology?
Rajendra Ji is of the experienced astrologers and Vedic Shastri in India and with his enhancing reputation in our country with all solution and remedies he provides, he is garnering praises not only from India but also globally which makes him one of the best astrologer in our country. Rajendra Ji has already helped many people regarding these problems and he is considered one of the best astrologers In India. You do not have to worry about your problems as Rajendra Ji is there to help you and you are one call away from getting the solution.
Contact Information:-
Name: Rajendra Kumar
Email: 8.rajan@gmail.com
Contact no: +91 98720- 95684
https://www.astrologicalcounsellor.com/wp-content/uploads/2021/04/Slider-2.jpg
500
1366
rajendra1955
https://www.astrologicalcounsellor.com/wp-content/uploads/2017/04/logo1.png
rajendra1955
2021-03-18 03:25:15
2021-04-10 02:34:44
Chandra Dosh Effects and Remedies